Shape improvement

Endermologie, with the Cellu M-6 device, is a cellulite treatment that combines very firm massaging, rolling and sucking at the skin's surface in an attempt to break up the fat cells that cause cellulite dimpling.
The effect of the treatment:
loosening of the skin, and accurate correction of body shapes
improved and stimulate blood circulation
improved lymphatic drainage
expulsion of tension and fatigue (restless legs)
stretching of the connective tissue walls, which encourage the fibrous tissue cells to produce better quality collagen and elastin, thus toning and firming the body.
After about 5 treatments, the skin first will become softer and looser but after that period the skin will become more firm and tight.
How many treatments do you need?
We recommend 2 times per week a 35-minute treatment.
You will need 10-15 treatments
This treatment is also very suitable before and after liposuction and liposculpture.
As treatment before:
it makes the skin looser from the underlying connective tissue layer so that the doctor can easily suck the fat away.
Advice: 6-8 treatments three times a week.
As treatment after:
two weeks after liposuction you can start with the Cellu M-6 treatment. The surface of the skin will be quickly equalized.
Advice: 5-7 treatments twice a week
SLIM UP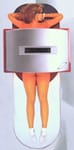 The SLIM UP is a new-concept figure correction by aninfra-red ray sourceand by anelectric muscle stimulator.
The application of infra-red rays combined with electric muscle stimulationproduces a slimming action as well as the modelling and toning up of themuscles in the area.
SLIM UP thus reduces adiposity on the abdomen, buttocks and thighs andat the same time improves muscle tone, thereby providing a concreteanswer to the problem of cellulite.
There are three different programs you can follow:
weight loss program (40 minutes on the slimming mode)
the reinforcement program (40 minutes on the reinforcement position)
a combination of both (20 min slimming, 20 min tighten)
We recommend a course of treatment of 10-15 times. The best is to come 3 times per week.
If you combine the treatment with a slimming diet you will lose weight much easier and on the right places.
BODY WRAPS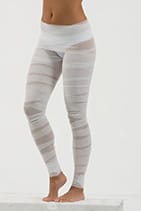 In order to stimulate the metabolism and to promote the purification proces body wraps are developed. The wraps also provide firmer connective tissue.
There are two different wraps:
SLIMMING WRAPS:
stimulates losing weight
COFFEE WRAPS:
for detox and the positive effects on cellulite
A treatment takes ± 40 minutes.
For best results we recommend 1 treatment every week for 5 weeks.