Dehydrated skin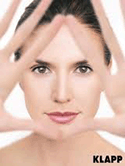 The extreme hyaluronic infusion
Gerhard Klapp has created a special facial that hydrates the skin and keeps the skin moisurized.
This is a perfect treatment any time when your skin needs more hydratation.For example after sunbath, but also in autumn or winter period when the air is dry central heating).
Important:
The hyaluronic acid in the Klapp products are developed according the latest biotechnological methods and is not of animal origin!