Galvanic spa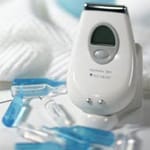 The smallest "wrinkle iron" in the world.
The Galvanic Spa system is a special device for the massage of the facial skin.
The Galvanic currents are named after Luigi Galvani, the Italian physicist.
During the treatment with positive and negative Galvanic currents, it is possible to deeply cleanse the skin and afterwards sooth the skin with the corresponding gels.
Result: The skin is smoother and firmer and radiant again.
Advice: 6 treatments in 6 weeks.
Follow-up: 1 time every 3 months.
Duration of treatment: 20 minutes. We also sell this Galvanic Spa device for using it at home.