Oxygen treatment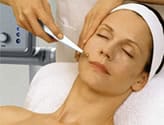 Nora Bode OxyJet Systems
This "anti-aging" facial treatment is of great interest and is totally "hot".
From big stars like Madonna, Courtney Cox, Jennifer Anniston, Gwyneth Paltrow and Claudia Schiffer regularly undergo this treatment.
By the use of pulsed oxygen pressure highly effective cosmetic formulations and pure concentrated oxygen are pulsed into the deep layers of the skin – without needles gentle, effective and safe!
The so formed deposit of active ingredients deep in the skin unfolds its positive effects over a long time. At the same time the oxygen acts as a vitalising energiser. All cosmetic problem areas can be treated without pain and side effects: The whole face, especially the delicate skin around the eyes and mouth, neck, decollete.
Excellent treatment results can be obtained for:
wrinkle formation

atrophic skin

pigmentation disorders

acne and impure skin
How to get the best results?
For the best results of this facial treatment and for a lasting improvement to the regeneration of skin cells, a course of 5 treatments are recommended, once a week.
However, results can be seen after just one Oxyjet facial treatment
Special homecare products:
Support this important process by continuing to use the corresponding NORA BODE homecare products frequently. They are specifically aligned to the previously pressure-injected concentrates. This is crucial for your long-term treatment result!
BEAUTY-TOX
The strong cocktail of active ingredients for the treatment of lines and decreasing elasticity at any age.
CEROMONE
Phyto estrogens for the demanding, dry skin at the age of 30+.
INTACT
Three new care concepts for more volume and a youthful appearance, clear skin and a balanced skin pigmentation.