Slim up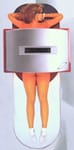 The SLIM UP is a new-concept figure correction by an infra-red ray source and by an electric muscle stimulator .
The application of infra-red rays combined with electric muscle stimulationproduces a slimming action as well as the modelling and toning up of themuscles in the area.
SLIM UP thus reduces adiposity on the abdomen, buttocks and thighs andat the same time improves muscle tone, thereby providing a concreteanswer to the problem of cellulite.
There are three different programs you can follow:
weight loss program (40 minutes on the slimming mode)
the reinforcement program (40 minutes on the reinforcement position)
a combination of both (20 min slimming, 20 min tighten)
We recommend a course of treatment of 10-15 times. The best is to come 3 times per week.
If you combine the treatment with a slimming diet you will lose weight much easier and on the right places.